Group Placing & Multi Breed Winning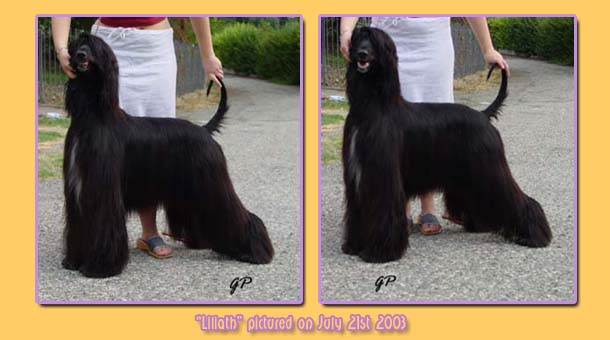 "... Comes to her best moving..." - "... Stylish and free mover..."
Said by Hound Specialist Mr Magnus Hagstedt, Knl Signum (Sweden)
"Liliath" is "the one and the only" from Ashraf x Liza's last litter. We treasure this little gift very much!
She's the "little black panther" at home, with such a sweet and wild temperament we love so much in Afghans.
But... Boy, what a showgirl!! SHE's the Lady with that breathtaking and effortless but powerful movement mixed to proudness and aloofness so rare today... And she definately loves to show herself off!
"Liliath" had to wait her showdebut until she was 2. Anyway, she proved us what a showgirl she would have been by winning BOB & GROUP 3 at her first show EVER. Out of her first 5 shows, she got 3 wins and 1 reserve. She was awarded her 4 All Breed CACs needed (plus other wins) in 7 shows. After attending few allbreeds shows, she won 5 CACs, almost undefeated in the Open class. Shown only three times at Int Shows she got 3 CACs, 2 CACIBs & 2 BOS'. Since breeds under a Breed Club require 6 CAC (2 Nat + 2 Int + 2 Spec) to become a Champion, she needs now 2 Specialty CACs to finish.
FLASH: September '04, She's now mother of 6 beautiful Babes, look under Litters!