I was born with a destiny to love Afghan Hounds written in my genes, as my parents had been the first Afghan Hound breeders in Italy, getting their kennel prefix registered by It. K.C. (ENCI) and F.C.I. in the 50's.
I started my judging career in the 80's, when I was approved to judge Open Show. I got my first International Licence in 1987 by ENCI. and I'm a specialist judge for Afghan Hound, Borzoi, Saluki, Whippet, Italian Greyhound.
I'm authorized to judge the whole FCI Group 10 (All Sighthounds).
I'm an FCI, ENCI, AKC, KC approved judge.
I have got a judging license to judge at KC Allbreeds & Specialty shows. I'm also an Agility judge.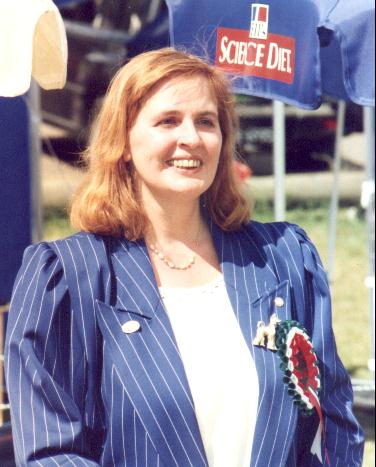 As a judge, I had assignments at Sighthound Club Specialty Shows in Italy and abroad all over Europe with a record of 140 at the Afghan Hound Club of Finland National Specialty Show. I also judged Afghans the NSW Easter Specialty '97 in Australia with an entry of about 180 dogs plus other Saluki, Borzoi, Whippet and Italian Greyhound Specialties in the same month. I've judged the most important shows in France (National d'Elevage,the most important specialty show for Afghan Hounds), Switzerland, Finland, Sweden and Germany.
In April 2002 I judged again at the Falapa National Specialty Show in France and in July 2002 I had the opportunity to see some wonderful Sighthounds in Sweden, at the world's largest and most renowned Sighthound Specialty in Skokloster (with a total entry of 800 dogs), where I judged about 170 dogs (Afghans, Borzois, IGs, Azawakhs, Polish Sighthounds), out of those about 90 Afghans, a record in many years. In August 2002 I judged about 130 Sighthounds (Salukis, Azawakhs, Sloughis, IGs, Polish Sighthounds) at Germany's Top Sighthound Specialty Show in Donaueschingen.
In February 2003 I judged the Afghan Hound Association of Long Island (NY) Specialty show for an
entry of about 90 dogs during the Westminster Weekend.
In 2005 I judged Afghans at the first Fci European Sighthound Winner Show in Donaueschingen Germany.
More assignments I have had lately were Sighthound/AH Specialty shows in Switzerland, Germany, Spain (National/Monografica), Denmark, Ireland, Sweden.
I have bred Afghans since I was a child. When I was a student I studied at the Turin Veterinary University for a stage of two years, and afterwards I got a Kennel Manager licence state. I studied at the University of Modern Literature for a two years stage too. No need to say that, last but not least, during all my life I've been studying our wonderful Breed in every aspect.
I have been a co-operator ("independent" writer) for dogs' magazines and encyclopaedic works. I wrote articles and technical studies about dogs and sighthounds. I worked on the Afghan Hound Study and on the Borzoi Standard Study for our A.H. Club and for E.N.C.I. (It. K.C.) that are published in some encyclopaedias and some ENCI publications. I still co-operate with ENCI magazine and works.
I am the author of the first and only one book about Afghan Hounds ever published in Italy: "Il Levriero Afghano", ed. DeVecchi, 1992.
I have been the promoter and foundation member in 1977 of the Afghan Hound Club of Italy (AIALA). Since then I have been the Secretary, a member of the Board of Directory, and until 1989 Vice President/ Chairman. Since 1990 until 1998 I was honoured to be the President of AIALA.
Cinzia Aymaretti Camia
Photos of some of the nicest AHC shows I've judged abroad... more to come in the near future!!
USA Afghan Hound Ass. of Long Island (Westminster weekend) February 2003
BIS Am Ch Mijkhel Thats It Thats Tron
BOS Am Ch Victorian Betwizt N Between
WD Boanne's Dragon Quest of Kameron
WB BOW El Chaman Criston Holly Berry
Sweden SKOKLOSTER/TAMMSVIK Sighthound Show July 27&28 2002
BOB Ch Ingenue Sebaztian
BOS Ch Tells Easy Come Easy Go
Germany - Donaueschingen Sighthound Specialties Show, August 3&4 2002

Sunday's BIS Ch Xenos Marnero

France - Falapa National Afghan & Saluki Specialty Show, April 7th

BIS Ch Xenos Marnero

BOS Ch Agha Djari's Forever In My Heart

AHC of NSW 66th Easter Specialty (entry about 180)

BIS Ch Khandhu Mandella

BOS & R/ U In Show Ch Aviva Venezia

Finnish National Specialty 1994

BIS Ch Scaramis Da Capo

BOS Ch Neliapilan Superapila

A very well known couple in shows and Arnold's first Natl BIS.

Annual Swiss Specialty, 1998

BIS Ch Wind Against Ace Of Base

BOS Wind Against Extasy

French National Specialty FALAPA 1995

BIS Ch Glorieuse Intrigue du Menuel Galopin

BOS Ch Cartier Simply Irresistible