Number 1 Afghan Hound Bitch* 2004 (MdR All breed System)
R/U Best In Group winner
Nr Italian & International Champion

"Tuuli" was supposed to leave for Sweden but then stayed with us. We don't regret it at all!!
Her name means "wind" in Finnish - she sure is faster than it! Every step she makes, something to mend!
She's definately the most clever, smartest girl and definately rules the house!
Partially named after one of Emanuela's favorite ever - worldfamous "Zoomie", this Champagne color coated (and minded!)
Girl has beautiful body and temperament and a movement to die for as well.
She has the correct effortless Afghan movement (see below), sparkling still when she's in the mood!
Just give her the biggest ring and open space and see what she's able to do...
She's the dog for the Specialist and expert eye. In 2005 she had a break, a long one as for today March '06.
Shown a couple of times as a Youngster, she got a Best Junior of Breed & BOS + BIS-2 Youngster over 20 other puppies.
She won her first Cacib beating a whole entire Open class of Champions and Specialty winners!
"Tuuli" was bred and is owned by Gran Pamir.
- March 2005 -
Italy's # 1 Afghan Bitch 2004*!
for MdR magazine System!
- December 2004 -
Italy's Top Cacib Winner 2004!
She's one of Italy's Top Afghan Bitches for the Year (All Breed system),
seldom shown, with 6 CAC, 4 CACIB, 4 BOB, 2 BOS and 1 Group-2 at her credit.
No other bitch has own as many Cacibs as her in Italy in 2004. Wow!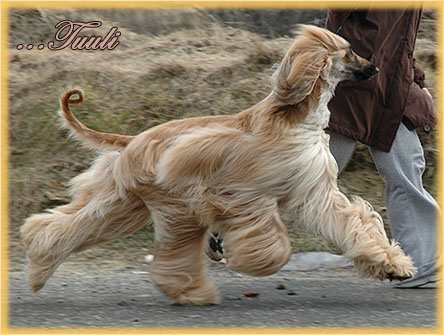 -- January 16, 2005: See more photos of her moving here! --
ENJOY A MOVING CLIP OF TUULI!
Watch it here.
Find more photos in her Gallery!