# 1 Afghan Bitch in Italy 2013
# 1 Afghan Bitch in Switzerland 2010
# 2 Afghan Bitch in Italy 2010
FCI INT & IT & SWISS & CLUB Champion
World Champion of Champions Context Invitation 2011
Multi Specialty BOB/Multi SBOS Winner
Group Placing
Near SM Champion

"Bellatrix" is our Rush x Tuuli's pick of the litter.
She's always been quite impressive since she was a little puppy, making herself noticed among the others with loads of substance and style.
From January to July '09 she enjoyed a little holiday in the company of many friends and relatives at auntie Ariel's house,
in the loving hands of Assunta Loreti, to whom we're very grateful. Thank you for everything!!
She had her show debut in April 2009 showing her heart out and going BOB & Group 2 at 12 months, too young for Cac.
Her few outings (in 3 different countries) also include a Jr CAC win at the Donaueschingen Winner Show in August and
a CAC & SBOS at the Swiss Specialty in Lostallo, September 2009. We look forward to the next shows!
Bellatrix won Specialty CAC CACIB SBOS over Multi Champions first weekend out in Italy in the adult classes, October 2009!
MAY 2010: She has now all Cacib's needed for the Int. title and has to wait for this autumn for confirmation!
APRIL 2010: After her wins here and there she's 1 Cac short of her Swiss title (in only two weekends of showing)
and 1 Cacib short of her Int. title, both to get from October onwards as one year must pass between the first and last ticket.
She's on her way to the Italian title as well and is so far a Top Wining Afghan Bitch in Italy for the year.
JANUARY 2011: She finishes her IT & INT titles at two and a half, almost undefeated, earning the Spotlight both in
Switzerland (5 shows - 5 wins - # 1 Afghan Bitch!) and Italy (# 2 Afghan Bitch).
[14 Cac - 7 Cacib - Multi BOB & SBOB & SBOS Winner - Group Placing]
JUNE 2011 New Swiss Champion!
She finishes her title undefeated in her class with 6 CC wins out of 6 shows!
Ravishing critiques is only what she gets and many are treasured... Here's the latest:
"I love her. She's the kind of bitch I'd bred from" (Mr Lou Guerrero, Genesis Knl, USA).
Huge thanks to Assunta Loreti for her dedication and work, doubtless you are truly part of the Gran Pamir Team.
See more pictures of her under her "Gallery" and "Litters".
June 2011, New Swiss Champion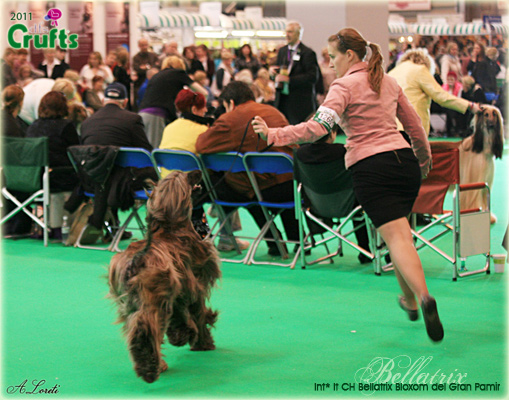 March 2010, Showing her heart out at prestigeous Crufts
August 2010, Winning VDH/RCAC in Germany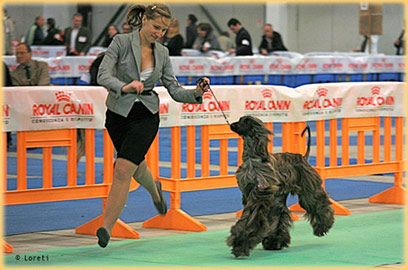 Moving on to SBOS - October '09
October advertising photoshooting...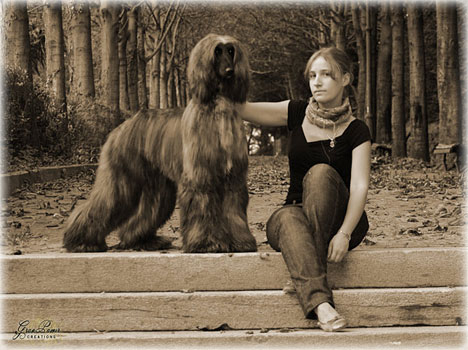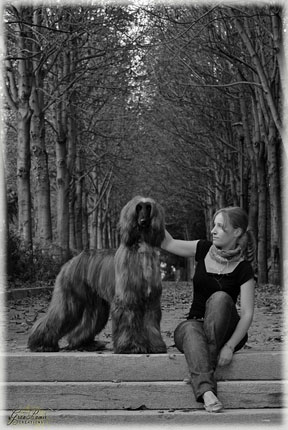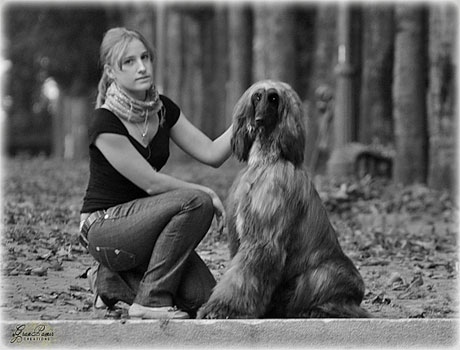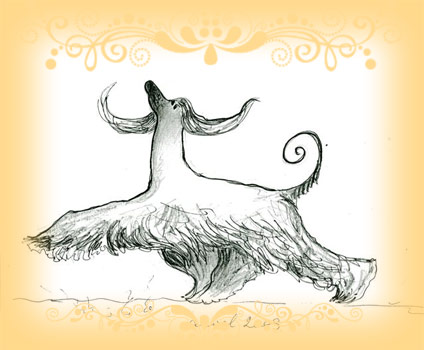 Miss Bellatrix on the move, pictured by Assunta Loreti, Oct '09
# 1 Afghan in Germany '07

MULTI CH AGHA DJARI'S REVENGE

CH XENOS COMMENT
CH XENOS MARNERO

CH GAZON SAY WHAT YOU MEAN

XENOS EXELITA

CH XENOS COSMEDIN

CH GAZON SAY WHAT YOU MEAN

CH SANALLAH'S FEMME FATALE

CH AGHA DJARI'S FOREVER IN MY HEART
CH GAZON DO WHAT YOU SAY

CH GAZON CHEATIN' HEART

CH PERSIA'S SNOW PIXIE OF GAZON

CH AGHA DJARI'S CIGOURNEY

CH KEFALARI'S SCENARIO

AGHA DJARI'S ANOUK AIMEE

# 1 Afghan Bitch in Italy '04

ZOOMIN' FAIRY

DEL GRAN PAMIR

CH.R. ALPHAVILLES THE GOLDDIGGER

CH SCARAMIS CARMINA

CH KINGSLEAH SMOKE SIGNAL

CH

ALPHAVILLES SHESELLSSEASHELLS

CH BRUNHILDE -DEL GRAN PAMIR

BOXADAN UPS A DAISY