- October ? -
National Lure Coursing in Ravenna
Yet another great day for SHON!
At the last competition of the year, he won again the CAC
with a pointscore of 190/200.
Now we're proud to say that he's
** - ITALY'S TOP WINNING LC AFGHAN HOUND 2004! - **
... almost undefeated! His worst placement was a RCACIL!
He only needs an Exc rating at a dogshow to become a Champion. Till next year!
Shon is proudly owned, loved and perfectly trained by Sokola Hajnalka, Roma.















- October 30 -
News from Holland!
Just thought we would share this cute photo!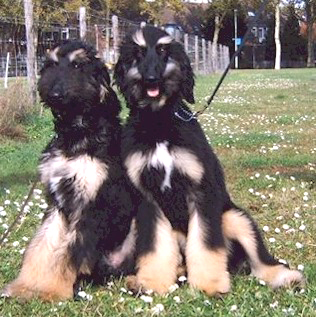 Left, "Shakka" - Only One Way My Way
(Kyber x Kouros Hannah)
Right, "Diva" - Alphavilles The Ultimate Creation
(Ingenue Sebaztian x Alphavilles She's A Perfect Ten)
Shakka and Diva are a sort of "looking like brothers" best friends!
We wish Shakka's owners Han & Gonny (Knl El Tayranils, Holland) best
of luck with their gorgeous boy!! Diva is owned by Paula Kenny.















- October 2 -
Sighthound Specialty Show in Lostallo (Switzerland)
"Iara" & "Isha" (former Ms Piggy & Stellina) and their owners' first show ever!
Starting out with a BANG...
"Iara" - GRAN PAMIR MISS SHE'S BLISS
Puppy BOB & BEST IN SHOW!
Showing like a real experienced showdog, Iara is getting noticed at the tender age of only 6 months!
Her sister "Isha", Gran Pamir Miss Lil White Star got 'Very Promising' too,
but like all the other puppies in the class she was "unplaced", only the winner was known.
Thank You Judge Mrs E-M Klepp (Norway) for appreciating these Sweeties.
Iara & Isha's critiques:
Iara: "Very sweet little puppy, nice head, dark eyes, very good lenght of topline, well related,
long neck, good feet, well formed body for age.
Shows a lot of character. Good sidedrive, well presented (shown by breeder)."
Isha: "Sweet puppy, nice head, long neck, ok topline, well angled long legs, well developed for age.
Nice feet, good bones, moves well. Well presented (shown by owner)."
"
Both cuties from Fabio x Millah litter are owned by Isabell Janza & Igor Maggioni in Switzerland.
You're doing a great job guys! Keep it up :-)
And "Tuuli" was Exc 2nd in Open Class. Anyway, her movement is once again recognized:
"...She moves with the right Afghan steps".