- May 21 -
Firenze Specialty Show
Though not planned, we drove to the center of Italy to meet up with friends and
for Tuuli's 2nd Italian appearance, and under a sunburing hot weather she went...
SPECIALTY RCAC
for judge Guy Spagnolo, Australia
This was the last Specialty for a while, no plans

have been made yet but she might be seen again in

Autumn hunting for this last Sp Cac.

Emanuela'd have loved an even cooler birthday present

from her, but this was already enough *grin*

We then had fun celebrating with cakes and drinks

so it was a nice day in the end ;-)















- May 7 -
Napoli International Allbreeds Show
SHININ' CLOUD DEL GRAN PAMIR

JUNIOR BOB

Owner: Paola Pieri















- May 7 -
Lure Coursing Training in Alessandria
Freddie's daughter/ Shogun's littersister likes the lure!
SHARAK O' GRAN PAMIR DE LA VALLEE DE LA VEZERE
gets her LC License, first time out ever on the field!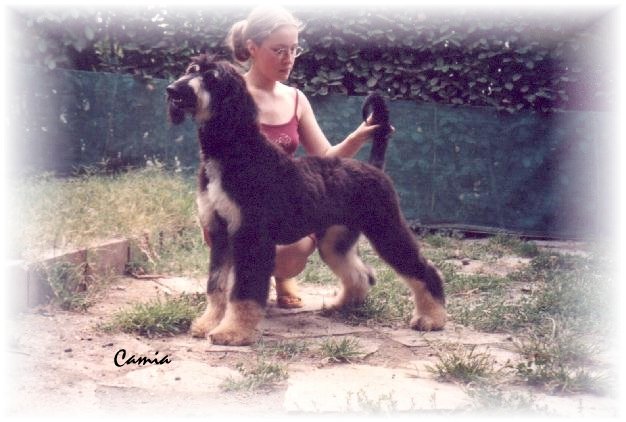 She's owned by the Azzolini Family. Congrats!
New pics of this beauty soon!















- May 1 -
AHC Specialty Show, Padenghe Sul Garda (Brescia)
This was our first outing in Italy in about 1 year.
Shown by Sergio who decided to give it a try, the stubborn girl
went into the ring, see how things turned out to be....
Tuuli's critique:

"Very typical bitch, blonde with slight black mask.

Exc head with typical expression, dark eyes.

Correct scissor bite, exc underjaw. Good lenght of throat.

Exc shoulder and front angulation.

Exc brisket, depth and width. Exc upper line,

croup and rear angulation. Rich coat.

Very sound mover, covering a lot of ground, very balanced.
˛
We just want to say 'THANK YOU' to:
- Breeder-judge Mrs Iren Roher (Daruma's) for appreciating
Tuuli's "morphology and quality of movement";
- Lori & Nino for their hospitality and for standing the two Queens;
- our BIG group of suppporters and friends who cheered for her all the time!
- and last but not least to Jess for leading us to enter her :-)
Thank you for turning a bad day into a nice one!
˛
˛
The Spring Specialty is notoriously the largest and main Specialty of the year. Now Tuuli is one Specialty CAC
away from her title. 2 are required; in Italy there are 6 Sp. shows all over Italy during the year.
Also Congratulations to 'Dasy' (Vain Jane) & Owners on winning the
"Beauty & Brain Trophy"
given to the Afghan who got the highest LC score and show placement during the weekend!
p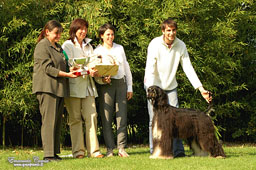 o
All photos ę Gran Pamir
o