- August 15 -
Photos!!
Alright, we made it...
Please have a look at our
and get lost in hundreds of dog pictures!
You can also see more photos and results on
Any infos or request, email us.















- August 12 -
We're back!
Yeah, we're home again... finally resting a bit after driving for 6400+ km across 9 countries...
And they call it 'holidays'!
It's taking us sometime to catch up and update with what you're all waiting for - pictures!
But I promise they'll be up online on our Photography Site in a few days :-)
In the meantime scroll down and see what's been going on lately, there are plenty of news!
And more to come, hopefully :-P















- July 28 -
Swedish Greyhound Club Specialty
Skokloster/Mariefred Summer Shows Weekend, Sweden
Multi Ch Karkati Pablo Picasso "Pablo"
4th BEST MALE/Reserve CC from the Open Class!
To his kennel mate and over some 15 champions, total entry about 50!
Judge Mr Michael White ("Baldrey", Uk)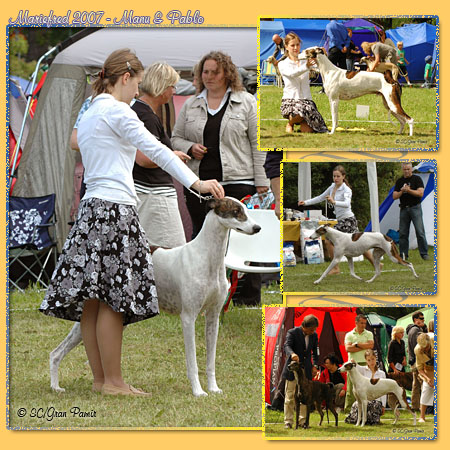 Though with no dogs of her own to show, Emanuela managed to successfully pilot a dog
at this show once again, this time teaming up with and having the honour to show the lovely and
sweet Greyhound "Pablo", bred/owned by Mr Roberto Posa (Ch). Thank You!
We had fun all over the weekend, and always present was the very moody Swedish weather!
We spent a great time with friends, from the beginning right to the end when at night the
last few of us left at the empty showground went bothering the owners of Sunday's BIS
winner in search of a little party LOL - We hope to repeat the nice weekend soon!















... at the Congress and National Specialty in Lovudden/Sweden!
Logo for the National features the Afghan in all its beauty and pride:
our two charming Ladies "Venus" & "Tuuli", from a photo by Manu!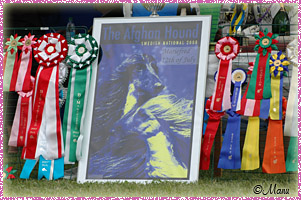 The Logo Print among the trophies and prizes at Mariefred 2007
Logo Copyright © Stephen Wheeler















"Tigro" will be daddy again! We look forward to it...
Proud expecting mom is Multi Ch Kouros Pensiero Stupendo.
Litter due in early September at Kennel Dietinger's of Mrs Laura Dietinger, Italy.
For further information don't hesitate to contact us or the breeder.















Scandinavian Sighthounds The Journal 2007
The new SSJ issue is out!

We have limited copies available...

Over 250 pages with dozens of gorgeous Color and B/w advertisments! Special issue for Whippets!

Hurry up and contact Emanuela.

Editors Stephen Wheeler & Anders Rosell

E' disponibile il nuovo SSJ!

Il numero di copie disponibili è limitato, si accettano prenotazioni. Oltre 250 pagine con decine di accattivanti

pubblicità a colori e b/n! Numero speciale Whippet.

Affrettatevi a contattare Emanuela.

Pubblicato da Stephen Wheeler & Anders Rosell