Things have been quiet lately with some well deserved holidays in between, here are a few news from a quiet summer...
- August 29 -
St Gobain National Show (F)
Aramintax Ayreez del Gran Pamir "Iris"
CAC BOS
"Iris" was shown again after quite a long time - gee damn false pregnancy!
However she managed to become the 5th Cac winner from the litter, well done!
She's taking her time and wil be shown again later, when her coat will be back and better than ever, soon ;-)
Owned by Mrs MÚlanie Lezy, France.















- August 29 -
Lotzwil Specialty Show/Swiss CombiTrophy (CH)
Xendra Xedrella del Gran Pamir "Jonie"
RCAC, #3 Afghan bitch for Beauty & Brain Trophy
The girl after making herself noticed at LC National and International level after just a few outings,
is slowly being introduced to shows, shown by owners. Well done with this result!
We're sure she'll do way better once her coat has fully grown back.
She's owned by Mrs Olga Palenga & Fam., her personal page will be up soon (see pic below).
Show judge was Mr Louis Dehaes (Du Jegdalek, B).















- August 8 -
Donaueschingen Sighthound Specialty Show (Germany)
Bellatrix Bloxom del Gran Pamir "Bellatrix"

Open Class winner, VDH, RCAC

Judge Mr Bo Bengston (Bohem, USA).

"Very well balanced, high quality, good head and expression, long neck, short back, good substance and croup,

very good angulation front and rear, moves well with style and drive,

well presented."

Thanks Enrico Stefanizzi for the lovely photo

(on the left).
It was Bellatrix first show since May and boy, did she stand out in the ring!
Definitely one her best performances ever...
A most beautiful and happy girl showing her heart out over record entry competition.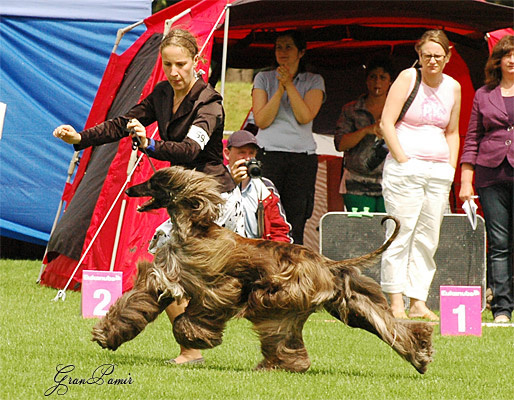 Please have a look at our
for a Gallery of the weekend events.