- October 25 -
Ivrea National CAC Show
Judge Mrs Kavcic (Slo)
"Bellatrix"

Bellatrix Bloxom del Gran Pamir

CAC & BOS

On a quiet spring-like Sunday "Bellatrix"

wins her second ticket towards her

Italian title and another BOS to her

friend Xenos Kumano.















- October 18 -
Bastia Umbra International Show - AH Specialty Show
Judge Mrs Bjorg Foss (Norway)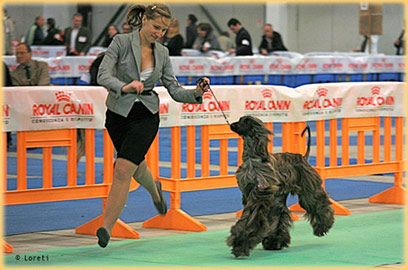 "Bellatrix"
Bellatrix Bloxom del Gran Pamir
Specialty CAC CACIB BOS
We had a nice weekend down in Center Italy - tiring of course with another set
of 1200 km's back and forth to drive - but it was worth it!
First weekend out in Italy since May and in Intermediate class ,"The Lady" takes it all showing her
heart out to another SBOS win (to Xenos Kumano), over Multi Champions at the age of 18 months.
Thanks to breed specialist Mrs Foss for her appreciation - as she says "we're going to have fun with this girl"!
And another bunch of "thank you's" to our best friends Roberto & Assunta for their help and support!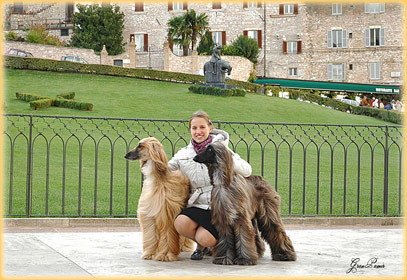 Emanuela with Bellatrix and mom Tuuli, taking time to visit the beautiful town of Assisi (Perugia),
here facing the famous Basilica di San Francesco.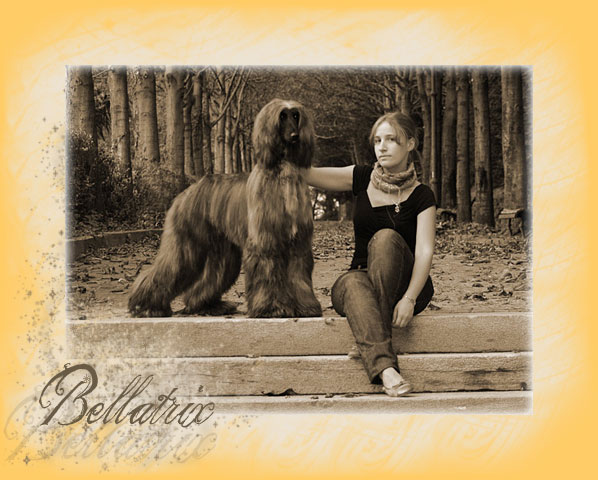 A few updates... better late than never!
Our new website is almost ready, so check back soon! We promise regular updates when online :-)
- September 26 -
Swiss Sighthound Specialty, Lostallo (CH)
Judge Mrs Gabriele Schroter (Germany)
What an unexpeced day it ended to be... But surprises are always nice :-)
Even when you make your mind up about going to the show just the night before!
Bellatrix Bloxom del Gran Pamir "Bellatrix"
Specialty CAC & BOS
Felix Felicis del Gran Pamir "Felix"
Specialty CAC
... first time in Intermediate class for both! This way they got the first tickets towards the Swiss championship.
They have just started to understand what show are about and they're showing it off!
Felix will be shown at selected events waiting for maturity amd will most likely be Bellatrix travel mate next :-)
Emanuela with Bellatrix in BOB competition and Felix moving,

photographed by Sergio.
Bellatrix has new photos on her page, have a look!















- August 1 & 2 2009 -
Donaueschigen Winner Sighthound Specialty Show (D)
Judge Mr Ole Nielsen (Canda) & Mr Alain Campagne (F)
This was a very busy, long, hot and wet trip - alltogether!
After grooming the two dogs, Emanuela drove some 1200 km (back and forth) and showed the two littermates
at this traditional weekend, in the company of her mother and friend Assunta Loreti - needless to say she was
a bit tired after that?! But at last it was a nice trip with nice results over good entry competition.
Bellatrix Bloxom del Gran Pamir "Bellatrix"
Junior CAC (confirmed by German KC, Sept '09)
Felix Felicis del Gran Pamir "Felix"
Res Jr CAC / Res Jr VDH - second time out!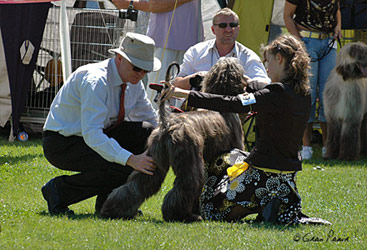 Bellatrix being judged under the hottest sun...















SCANDINAVIAN SIGHTHOUNDS JOURNAL 2009
è ora disponibile in numero limitato!

Pubblicato annualmente, è ora disponibile il sesto
volume di questa importante rivista, tra le più
famose, interessanti e apprezzate a tema 'levrieri'.

Nonostante si focalizzi maggiormente sulla scena
scandinava, SSJ può definirsi una pubblicazione 'mondiale' grazie al contributo di levrieristi da ogni parte del globo
che la rendono ricca quantitativamente, ma soprattutto qualitativamente, tra pagine pubblicitarie e articoli.

Ormai un pezzo che non può mancare alla Vostra
collezione, uno strumento per imparare e conoscere la

storia che non può essere paragonato a Internet, volubile
e volatile. Indispensabile per crearsi una "cultura levriera"!

Più di 350 pagine da sfogliare,
di cui 150 dedicate al Borzoi per lo speciale 2009.

Unico distributore per l'Italia:
Emanuela Camia
manu@granpamir.it